Sign In

Cable Tie Products
Wire Raceway & Tubing
J Hooks, Bushings & Clamps
Bushings Fittings & Grommeting
Wire Clamps & Staples
Safety Plates
J-Hooks, Bridle Rings, Cable Hangers
Drive Rings
J-Hooks & Bridle Rings
Communication Cable Loops
Distribution D Rings
Eye Lags & Screw Eyes
Suspendo Saddles
Beam Clamps
Electrical Mounting Devices
Spacers, Standoffs & PCB Mounts
Hose Clamps Stainless Steel
Conduit Straps
Wire Identification Products
Adhesives, Tapes, & Sealants
Terminals & Connectors
Modular Plugs & Jacks
Anchoring Products
Drill Bits
Saws & Blades
Screws, Bolts, Nuts and Drivers
Safety & General Supplies
Tools
Magnetic Security Contacts
Home Theatre Solutions
Clearance/OverStock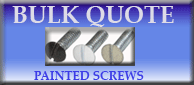 SUSPENDO SADDLES
The ONLY communication cable support made specifically for ceiling wire applications. Suspendo Saddles are an extremely cost effective alternative to cable trays and J-Hooks. Typically 1/2 to 1/3 the cost of a traditional J-Hook Installation. In addition, Suspendo Saddles are made from an advanced polymer and are UL Listed, Plenum rated, and RoHS compliant.
PDF ATTACHMENTS DATA SHEET (1) , DATA SHEET (2), INSTALLATION INFO
Properties:
• Excellent corrosion and chemical resistance.
• Exceptionally high strength-to-weight ratio.
• Very good abrasion and impact resistance over a wide range of temperature.
• Excellent heat resistance and electrical properties, with a very high dielectric strenngth.
• Cable support can be easily integrated to ceiling grid with only tie-off wire where jurisdiction requires.
• The new Snap Button is versitile, easy to use, and compatible with any type of clip with a 1/4" hole.
• Works with these clips: APS, 4Z34, SFC-18, SFC-58, 4H912, 4H24, BC-18, 4H58, M24...etc.
• Patent Pending.

Holds up to (110) CAT-5e cables when used with batwing, and up to (220) CAT-5e cables when used
as a tie wire loop.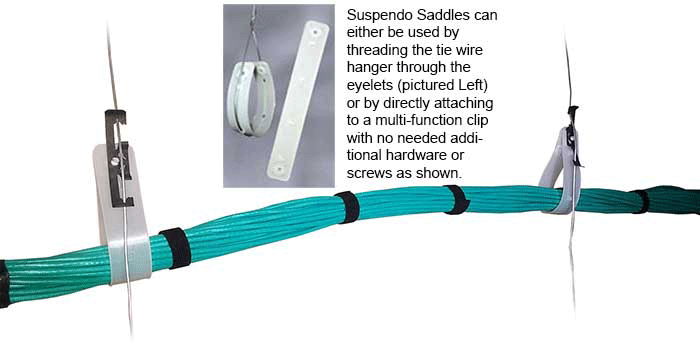 Suspendo Saddles
Code
Name
Image
Description
SSCD-8
RINGS & HANGERS - LOOP SADDLES
8" Suspendo Saddles (100)
OPTION 1 - Attach directly to a multi-function clip (Batwing) in seconds with no screws or additional hardware. OPTION 2 - Loop the tie wire hanger directly through the eyelets for larger bundling capacity.
SUS-DP114-4
ANCHOR - POWDER ACTUATED - CLIP
4' Suspendo Wire Cable Hanger w/1-1/4 (100)
J-Hook with Batwing and Suspendo Saddle (Sold Separately)
SUS-DP114-6
ANCHOR - POWDER ACTUATED - CLIP
6' Suspendo Wire Cable Hanger w/1-1/4 (100)
J-Hook with Batwing and Suspendo Saddle (Sold Separately)
APS
BEAM MULTIFUNCTION CLIP
(10-24 & 1/4-20) Flanges & Rods 1/8 to 3/8 (100)
SFC-18
BEAM FLANGE CLAMP - HAMMER ON
(with 9/32" Hole) Fits Beams 1/8 - 1/4 (100)
SFC-58
BEAM FLANGE CLAMP - HAMMER ON
(with 9/32" Hole) Fits Beams 5/16-1/2 (100)