Sign In

Cable Tie Products
Wire Raceway & Tubing
J Hooks, Bushings & Clamps
Bushings Fittings & Grommeting
Hole Plugs
Conduit Bushings
Insulating Bushings
Flexible Grommeting
Metal Box Connector-Strain Relief
Feed-Thru Bushings
Wire Clamps & Staples
Safety Plates
J-Hooks, Bridle Rings, Cable Hangers
Beam Clamps
Electrical Mounting Devices
Spacers, Standoffs & PCB Mounts
Hose Clamps Stainless Steel
Conduit Straps
Wire Identification Products
Adhesives, Tapes, & Sealants
Terminals & Connectors
Modular Plugs & Jacks
Anchoring Products
Drill Bits
Saws & Blades
Screws, Bolts, Nuts and Drivers
Safety & General Supplies
Tools
Magnetic Security Contacts
Home Theatre Solutions
Clearance/OverStock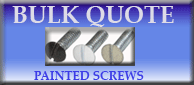 Bushings & Fittings
Flexible Grommeting


Freight Paid by the Service Warehouse $100.00 Minimum Order
Conduit Bushings These Conduit Bushings insulate and protect cables from abrasion by the conduit edge. For use wherever a conduit fitting would other wise not be required, such as Power, Cable TV, Computer data lines, Tele phone/modem, audio/video cables, alarm systems, security systems. These conduit bushings are UL Listed and CSA Listed. In summary, these conduit bushings are an Economical, Fast, and Simple way to insulate cables from metal conduit edges. It holds firmly in place when pulling cables.
INSULATING BUSHINGS insulate wire, cables, cable tubing, hoses etc. from the sharp edges of drilled or punched holes in sheet metal. They protect your wire runs while creating a more professional look
Flexible Grommeting Flexible Grommeting is designed to protect the fraying and cut-through of wires from sharp edges of metal. It can be used for round, square, and irregular shaped panel edges. Commonly used in applications where no available insulating bushing will fit. Can be attached quickly and easily without any special tool.
Metal Cable Connectors These Metal Cable Connectors are the standard metallic NM/SEU cable connectors most commonly used in the electrical industry. The threaded end is fed through the box or enclosure where the locking nut is rotated to secure(locking nut included).