Sign In

Cable Tie Products
Wire Raceway & Tubing
J Hooks, Bushings & Clamps
Wire Identification Products
Adhesives, Tapes, & Sealants
Terminals & Connectors
Modular Plugs & Jacks
Anchoring Products
Solid Wall Anchors
Plastic Expansion Anchors
Plastic Anchor Screw Kits
Concrete Screw Anchors
TAPPER Screw Anchors
Drivecon Screw Anchors
Wall Dog Screw Anchors
Concrete Screw Masonry Bits
Nail Drive Anchors & Pins
Metal Expansion Anchors
Hollow Wall Anchors
Blind Rivets
Rod & Eyelet Anchors
Powder Actuated
Lagmaster Poles
Spike concrete Anchor
Drill Bits
Saws & Blades
Screws, Bolts, Nuts and Drivers
Safety & General Supplies
Tools
Magnetic Security Contacts
Home Theatre Solutions
Clearance/OverStock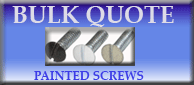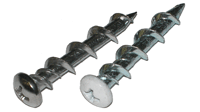 SW Wall-Dog is the industries first all steel one-piece screw anchor, which
features high-profile threads for easy fastening into wallboard and other
masonry base materials. Deep cutting, corkscrew like threads provide for
smooth entry and a powerful hold. When removed, the SW Wall-Dog
leaves a much smaller hole than toggles or other systems. For aesthetic
appearances, the SW Wall-Dog is available in two color finishes: White
and Chrome.
* Concrete, Hollow or Grout Filled Block, Brick, and Plaster:


Requires a pre-drilled 3/16" ANSI hole and a Phillips power driver.
* Wallboard(Drywall) or Wood:


No pre-drilling is required, the anchor is inserted through the fixture and screwed in with an ordinary Phillips screw driver.
Typical applications include fastening electrical apparatus, lighting fixtures, drapery rods, signs, smoke detectors, security panels, telephone equipment, thermostats, and cable accessories.
Material

Thickness/
Embedded Depth

Tested Pull-Out
Load in Pounds

Tested Shear-Strength
Load in Pounds

Wallboard
Plywood

1/2" Wallboard
5/8" Wallboard
1/2" Plywood


85
135
255


245
360
600


Concrete
Brick

3/4" Embedded Depth
1" Embedded Depth
3/4" Embedded Depth
1" Embedded Depth

350
700
350-400
380-600

1030
1070
600-650
825-900

Hollow Block
Grout Filled Block

1" Embedded - HB
1" Embedded - GFHB

290-305
285-290

825-915
825-915
Wall Dog Screw Anchors
Code
Name
Image
Pkg
WD-P3
ANCHOR - WALL DOG - ANCHOR ONLY
3/16 x 1-1/4" Chrome Wall-Dog Anchor (100)
WDK-P3
ANCHOR - WALL DOG - KIT w/BIT
3/16 x 1-1/4 Chrome Wall-Dog Kit with Bit (50)
WD-P3M
ANCHOR - WALL DOG - BULK
3/16 x 1-1/4" Chrome Wall-Dog Anchor (1,000)
WD-P3W
ANCHOR - WALL DOG - ANCHOR ONLY
3/16 x 1-1/4" White Wall-Dog Anchor (100)
WDK-P3W
ANCHOR - WALL DOG - KIT w/Bit
3/16 x 1-1/4 White Wall-Dog Kit with Bit (50)
WD-P3WM
ANCHOR - WALL DOG - BULK
3/16 x 1-1/4" White Wall-Dog Anchor (1,000)
WD-SQP3
ANCHOR - WALL DOG - BULK
3/16 x 1-1/4" SQ PAN Chrome Wall-Dog Anchor (100)
WD-SQP3M
ANCHOR - WALL DOG - BULK
3/16 x 1-1/4" SQ PAN Chrome Wall-Dog Anchor (1,000)
Freight Paid by the Service Warehouse $100.00 Minimum Order